Input and Output of Lego NXT Servo Motor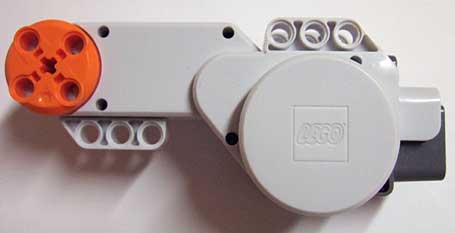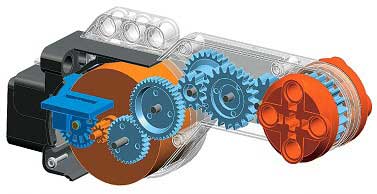 Wiring (RJ12-Connector)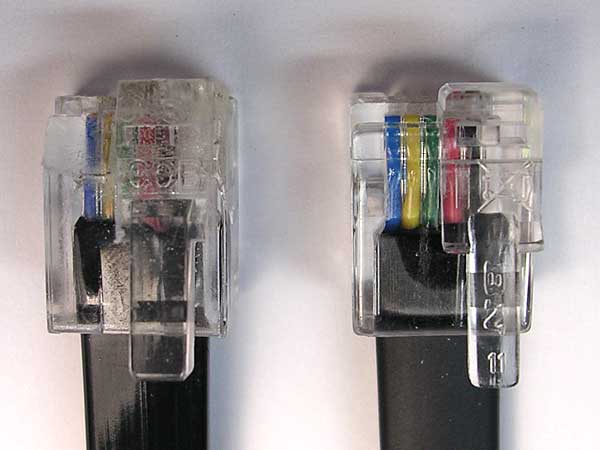 Pins numbering from left to right: 6 - 5 - 4 - 3 - 2 - 1


Pin number of original
nxt-cable
cable color
function
signal / polarity
signal form
1
white
motor power supply
DC 9V + or -
DC
2
black
motor power supply
DC 9V - or +
DC
3
red
rotation detector supply
ground (0V)
DC
4
green
rotation detector supply
+ 4.3 (to 5.0 V)
DC
5
yellow
rotation detector output 1
0 / 4.3 V against 3,
-4.3V / 0V against 4
rectangle
6
blue
rotation detector output 2
0 / 4.3 V against 3,
-4.3V / 0V against 4
rectangle
The 4 connectors for ratation detection (pins 3-6) are independent from the 2 motor coil connectors (pins 1-2).

Inputs:
Pins 1 and 2: DC supply/power for motor, polarity determines rotation direction.
Pins 3 and 4: DC 4.3 V to 5V supply for rotation detector
Outputs:
Pins 5 and 6: +/- 4.3V DC rectangle signal against pin 3 or 4

Signal diagrams:
definition of forward rotation: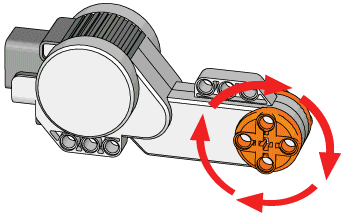 Each output (pin 5 and pin 6) provides 180 pulses per round of the orange output wheel.
The duty cycle is intended to be 50%:50% and the phase between 5 and 6 is intended to be 180 degrees.
Like this the motor should have a resolution of 1 degree (2x180 pulses).
But neither is exactly reproducible; the duty cycle is more like 45%:55% and therefor also the phase can not be 180 deg but is little less.
However, the two output signals are able to give the speed and relative angle with an accuracy of 2 degrees or better, and the rotation direction. But an absolute angle of the motor can not be detected .